My holiday crochet, plus some other projects, all finished at once. Warning - big pictures. I couldn't get it to work any other way. *is puzzled*
Here's Baby Elephant with Mummy Elephant. So cute! Mummy was a commission from a friend for her daughter's birthday, and Baby is my gift to her daughter.
And then there's Sweetheart Ted. I made most of this bear while I was on my way home from the Lake District. I wasn't driving. *jk* I like the way the colour-changing yarn works on the bear.
Grunge Bunny. I wanted to see if I could make rabbit ears and tail for the same body as the ted pattern, and it worked really well.
Star Trek Ted. For my stepson's birthday. He ordered it specially. He's going to be 36. *is saying nothing*
The three of them together. *squees*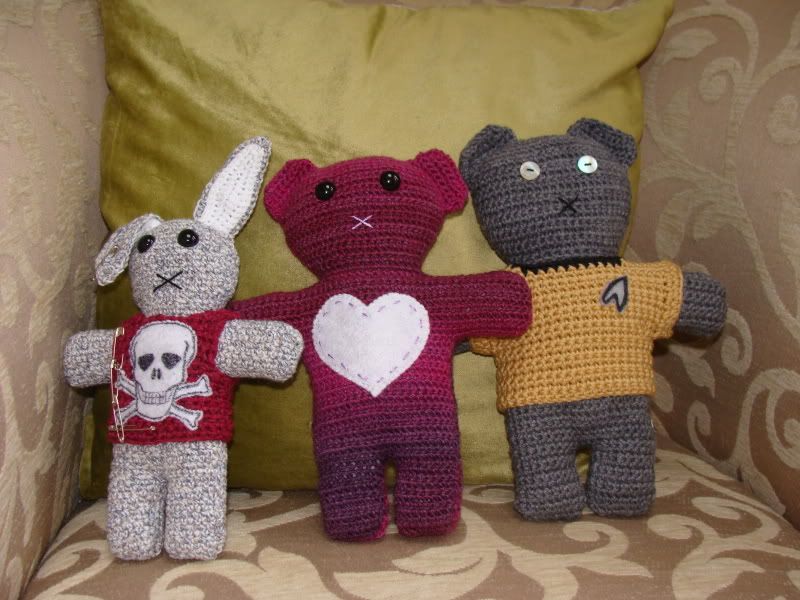 My other experiments during the holiday. Some prototype stitches for a bag I'm making for the lovely
lausi_gm
.
And here's the yarn I'm going to use - fabulous colours! I can't stop admiring them.
There are some more pics and ramblings on my blogspot. Go here to have a look -
clicky
. There's a link to my shop on there too, and Grunge Bunny and Sweetheart Ted are there, looking for new homes.
-----
Current Mood:

creative